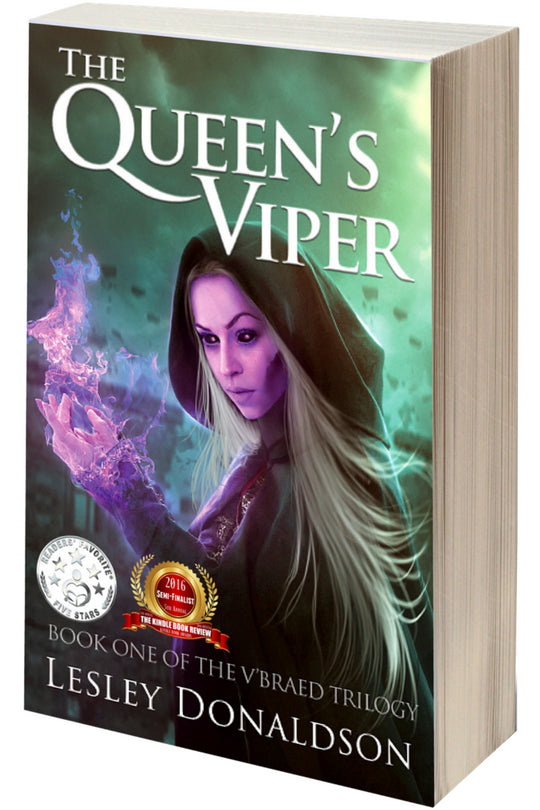 AUTOGRAPHED "The Queen's Viper" paperback (Lesley Donaldson)
$16.99
The Queen's Viper was a 2016 Kindle Book Awards Semi-Finalist written by Lesley Donaldson.
Time heals all wounds. Except hers.
Will immortal Viper overcome the power surging within herself even as Queens of Britain try to control her?

To enhance the life-magic of the people she feeds upon, Viper ensures Tudor Princess Elizabeth becomes Queen of England. The villainous immortal also seeks a Crown Jewel that stirs up her repressed memories. Her quest to find her past throws her into the path of malevolent Annys. Annys entraps Viper for centuries. In modern London, Viper inexplicably escapes. She enlists her Foundling, Mouse, to overcome immortal magic and human power as she seeks revenge upon her nemesis and the descendants of the humans who helped Annys, starting with Queen Elizabeth II.

You'll love your autographed copy of anti-heroine Viper's adventure in this grimdark blend of historical and contemporary fantasy in a fairy tale like no other.

ISBN 978-0-9937823-2-9 (paperback)
476 pages, 6x9 trade paperback
The Queen's Viper gives us a complex anti-hero—she is both merciless and compassionate, wields considerable powerful yet relies on her cunning. Don't look for simple good versus evil here. Mixing modern and historical fantasy, The Queen's Viper has enough magic, action, scheming and political intrigue for a trilogy.
-Matt Moore, Co-Chair, Ottawa Chiaroscuro Reading Series
This story continues with the second book in the series, The Wrath of Atticus, also available as an autographed paperback.